CPRA has compiled a list of online resources of interest to persons affected by Chronic Overlapping Pain Conditions (COPCs). Please note that the Chronic Pain Research Alliance is not responsible for the content accessible via each of the links below.
Chronic Overlapping Pain Conditions Brochure
Read our brochure, Chronic Overlapping Pain Conditions.  This brochure addresses what are COPCs, how COPCs are diagnosed, the complexity of the chronic pain experience, and how to work with your health care provider to develop a treatment plan.
Patient Self-Help Guide
Read our self-help guide for patients with Chronic Overlapping Pain Conditions.
CPRA Policy Analysis & Recommendations
The CPRA produced these white papers to promote awareness and research of COPCs. These reports, which can be viewed and downloaded below, include detailed recommendations for how research on COPCs should be advanced and expanded in a coordinated, efficient and effective fashion.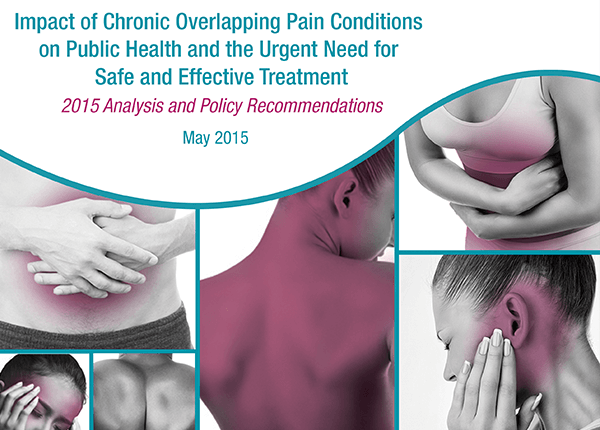 Recent Scientific Presentation on COPCs
View the presentation, "Latest in Chronic Overlapping Pain Conditions and High Impact Chronic Pain," presented by CPRA Director, Christin Veasley, with CPRA Scientific Advisor, Dr. Sean Mackey, at the AAPM 2022 Meeting
Institute of Medicine Report on Pain in America
In this report, the Institute of Medicine (IOM) offers a blueprint for transforming pain prevention, care, education and research, with the goal of providing relief for all Americans suffering from pain.
Read the 2011 IOM Report: Relieving Pain in America: A Blueprint for Transforming Prevention, Care, Education, and Research
U.S. Senate Hearing on Chronic Pain
February 2012 the U.S. Senate held the first hearing on chronic pain, Pain in America: Exploring Challenges to Relief, which included testimony from CPRA Scientific Advisor Council members Drs. William Maixner and Philip Pizzo and CPRA co-founder Christin Veasley.
Campaign to End Chronic Pain in Women
From 2010 to 2012, the Chronic Pain Research Alliance (formerly named the Overlapping Conditions Alliance) received funding to conduct the Campaign to End Chronic Pain in Women. The Campaign was jointly led by organizational leaders of the CFIDS Association of America (now named the Solve ME/CFS Initiative), Endometriosis Association, National Vulvodynia Association and The TMJ Association.
The Campaign's major aim was to improve the health and well-being of women living with one or more chronic pain disorders that solely or disproportionately affect women, including myalgic encephalomyelitis/chronic fatigue syndrome, fibromyalgia, temporomandibular disorders, vulvodynia, endometriosis and interstitial cystitis/painful bladder syndrome. As many as 50 million American women live with one or more of these conditions, and for the majority, our health care system offers frustratingly little help. Because the U.S. government and private sector have shortchanged research on these disorders, they are all poorly understood. Health care providers receive inadequate training on their diagnosis and treatment, and effective, evidence-based treatments are lacking. Additionally, evidence suggests a discriminatory pattern in the medical care provided to women with chronic pain.
During the Campaign, we were able to significantly increase awareness of these issues among key stakeholder groups, including policy makers, representatives of federal health research agencies and industry, clinicians, scientists, media professionals and the public. This work continues through the efforts of the Chronic Pain Research Alliance.
TMJ Association's Scientific Meetings
Eighth Scientific Meeting: How Can Precision Medicine Be Applied to Temporomandibular Disorders and its Comorbiditites?
Seventh Scientific Meeting: Genetic and Epigenetic Basis of Temporomandibular Disorders and Related Chronic Overlapping Conditions
Sixth Scientific Meeting: Comorbid Chronic Pain Conditions – Mechanisms, Diagnosis and Treatments
Fifth Scientific Meeting: Can Studies of Comorbidities with TMJDs Reveal Common Mechanisms of Disease?